Hello, would you like to book the chart reading according to rules of ancient tradition of Jyotisha (Vedic Astrology)?
I am offering 90 and 60-minute  zoom video astrological sessions.
The next free slot is for the mid/end of July 2020.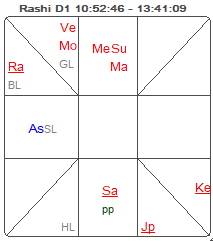 You will get the predictions and timings related to all important areas of life. Highlight of blessings and challenging situation is made with the exact descirption of all the yogas (combinations). Most problematic yoga is diagnosed and the correcting tools in form of better choices and mantras are advised.
Vedic Astrology is very precise as instead of one chart, it has total 16 charts which describe the life of person in details. With the tool of dashas (timing system) one can understand the time of marriage, changing of job, health events, financial outcomes, expenses, investments, property changes, getting new job, rise, moving out and many more.
Since 2004, finished two most important courses in Sri Jagannath Center Acyutananda school from India, Parashara Course by Sanjay Rath and  Jaimini Upadesa Sutram with tutorship from Visti Larsen – that helped the build the fundamental knowledge to help people with their decisions in life.
In my astrological analysis and predictions I incorporate all important tools of Vedic Astrology like badhaka, nakshatra, visesa lagna (like hora, pranpada, ghatika) dashas, vargas, arudha, varnada, gochara and many more.
The remedies in form of mantras and gems are also given to correct a problem.
To conduct a reading please fill the below form and make a transfer before the day of consultation. You will get an email with the day for a reading.
More about me: http://rohinaa.com/?page_id=14
Please subsrcibe for regular Vedic Astrology Content, I am updating 2-4 times a month!
You can also transfer the money via bank account:
Bank account:
Landensbank Berlin – Berliner Sparkasse
Account number 1060385712
Bank code 10050000
Riesaerstr 15, Berlin 12627
For foreign transfers:
BIC-/SWIFT-Code: BELADEBEXXX
IBAN-Nummer: DE49 1005 0000 1060 3857 12
Contact:
Rafal Gendarz
Tel: +49 176 884 777 67
email: rgendarz@gmail.com
skype: jyotraff1