Promotional Reading
The promotion is avaiable only between 17.12.2019 and 23.12.2019.  Birth hour is necessary to cast the astrological chart.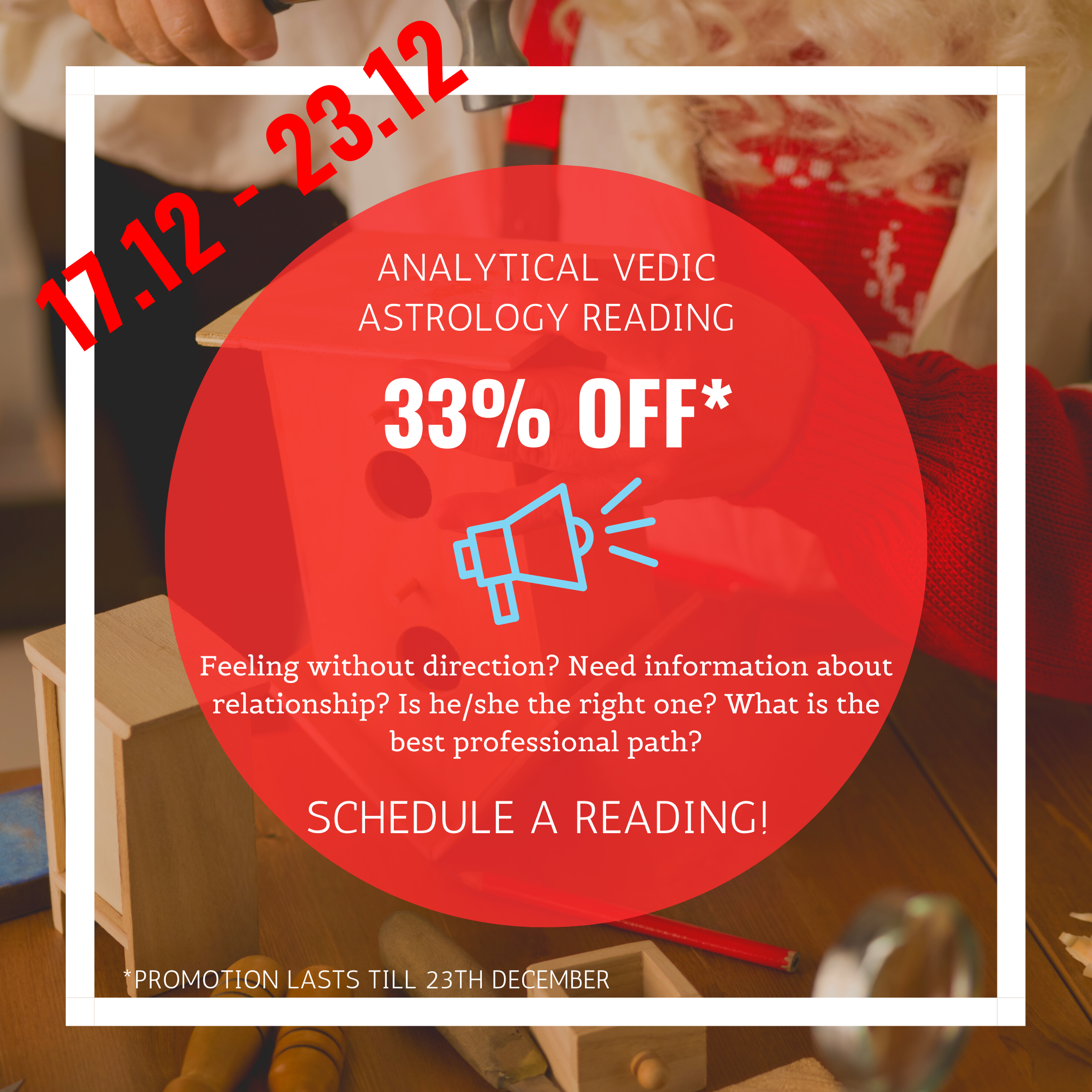 The general reading is 90-minute consultation on the ZOOM, the whole chart is analysed per teachings of Vedic/Indian Astrology (Jyotisha), all important areas are discussed with timings (predictions for future) and remedy (gems, colours, vedic mantras, meditation sounds), such as career (timing, promotions, most effective ways to increase potential, choosing the best career path), relationships (timing of starting relation, marriage, description of partner, advices regarding divorce, children), property, health, mission in life, spirituality, education and other areas.
The promotional price is 83€ / 6500 INR (regular price is 124€  / 9720 INR).
ONLY 3 STEPS to schedule an Astrological Personal Analysis with Rafal Gendarz:
FIRST STEP – FORM
Fill the form with birth details on https://rohinaa.com/?page_id=2 (in Consultation).
SECOND – PAYMENT (PAYPAL OR BANK ACCOUNT)
You can pay directly with Paypal ( https://rohinaa.com/?page_id=2 in Consultations or pay 83€ directly through www.paypal.me/rafal108).
Please choose manually the price on your paypal account to 83€ / 6500 INR.
Bank Transfer (details on the same page)
The promotional price is 83€ / 6500 INR (regular price is 124€  / 9720 INR).
THIRD – CHOOSE A DAY FOR CONSULTATION
Schedule a day:  my working hours are 10am – 4pm (Berlin time) except Wednesdays.
Please write me an email with your prefered day -> rgendarz@gmail.com
That's ALL!
How the reading is done?
It is live ZOOM (it is software similar to Skype) talk analysis which is recorded as mp4 video file for further reference. I will send you the link for the Zoom meeting.
About me:
Rafal Gendarz is a graduate of Philosophy Studies (MA) and advanced Astrology courses Paraśara Hora Sastra conducted by Sanjay Rath, and Jaimini Sutras Program conducted by Visti Larsen.
I started studying Vedic Astrology from Visti Larsen since 2004 and started doing regular Astrology consulting since 2009.