Hello everybody!
I am happy to announce small gift for you!
Would you like to learn how to interpret the houses in Vedic Astrology? How the strength, qualities and aspects of planets are calculated and interpreted? Their qualities of dosha, dhatu and taste with practical examples? Interpretation of 'First Three Houses' in Vedic Astrology presented as 3 lectures (9 hours) along with PDF (77 pages) is available in free download. This is part of the course performed Berlin 2013. There is also possibility to purchase all the 12 recordings. (see below)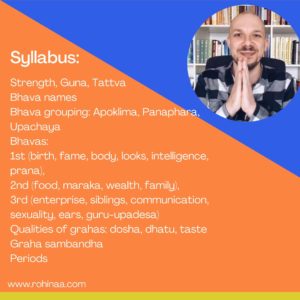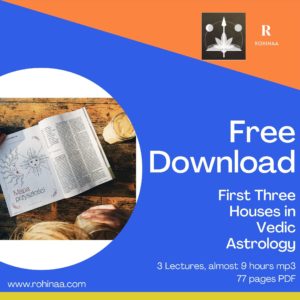 I am sure you will love the rich content!
To get your copy of first three lectures please sign-up with your e-mail in the box
You can unsubscribe at any time, and you will be removed from our mail database within 48 hours.
(you will get the download links in 24 hours)
(if you didn't get the e-mail, please contact me at rgendarz@gmail.com)
The whole course details:
House 1 2:59:00
House 2 3:13:00
House 3 2:51:00
House 4 3:17:00
House 5 1:51:00
House 6 2:48:00
House 7 2:51:00
House 8 2:32:00
House 9 2:33:00
House 10 2:36:00
House 11 3:00:00
House 12 2:30:00
33:01:00
It is 33 hours of lectures.
The full 12 houses courses costs 340€ (the first three lessons are completely free)
These files (pdf+audio) are copyright ownership of the lecturer. These files are meant only for the participants of the course or those who purchased these recordings.
Any kind of sharing those files with people not involved in this course ammounts to stealing.
Please respect the ownership. Namaste!